Sustainability
Sustainability is at the heart of everything we do. From the way we source ingredients to the solar ovens which dry our products, our aim is to leave the planet in better shape so our four-legged friends can continue to enjoy it for years to come.
Switching your dog to Eureka
could save 1,000kgs of CO2 each year!*
That's the equivalent of avoiding 1,500 pounds of coal being burned, or planting 22 trees and growing them for a decade!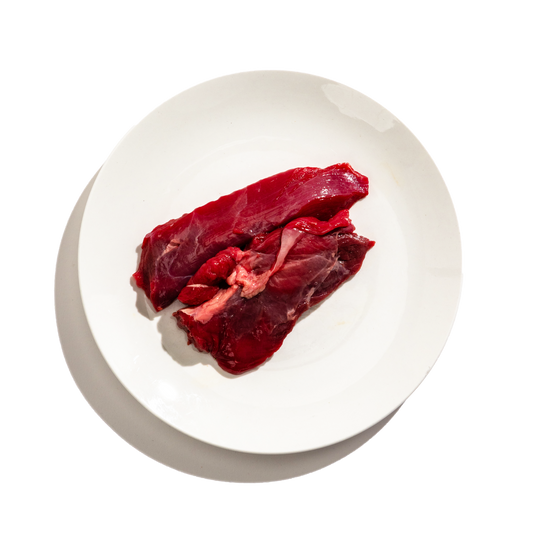 Clean
Recipes
No more ruff meals. 100% natural, sustainable recipes to keep their tails wagging.
All our recipes prioritise wild-caught Australian game and fish. Wild-caught proteins can have up to 20X less carbon footprint than their farmed counterparts. By ethically harvesting invasive and overpopulated species like venison and boar we help conserve native habitat, while also ensuring these nutrient dense proteins don't go to waste.

We source 98% of our ingredients in Australia to support local producers, guarantee quality and minimise food miles.

We've partnered with Carbon Reduction Institute to complete a Life Cycle Analysis of our air dried recipes. What tiny footprint our recipes do have we offset through the NOCO2 program to become 100% certfied carbon neutral.
Shop Now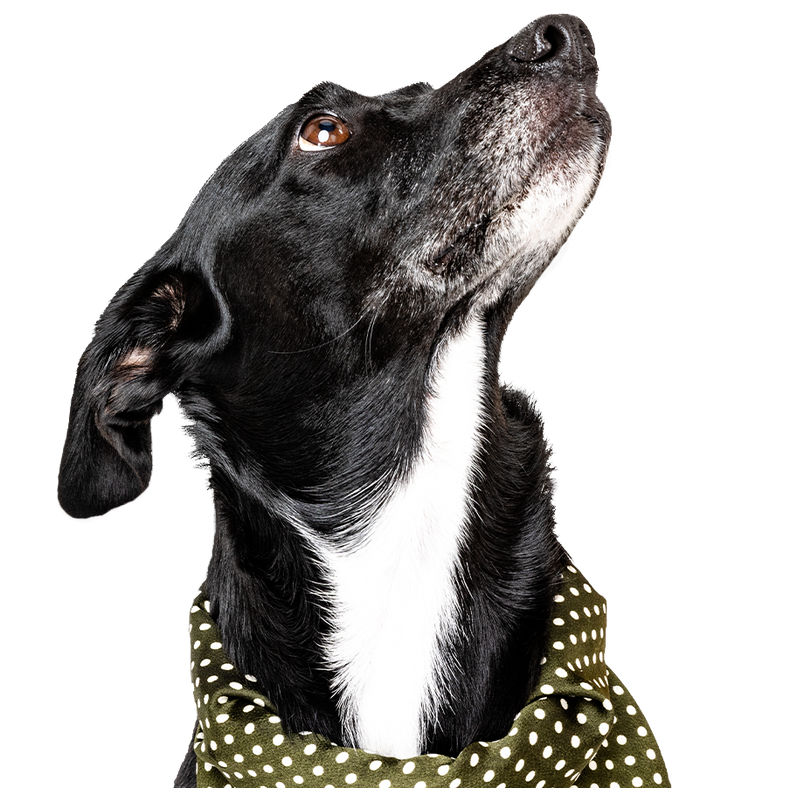 Clean Power
A huge part of the footprint of any manufacturing operation is fossil fuel usage for power and transport.
We manufacture in Australia using at least 98% Australian ingredients to keep our food miles as low as possible. Our factory uses one of the world's largest solar ovens to gently cure our food with minimal input from the traditional power grid.
Good for your pup. Good for the planet.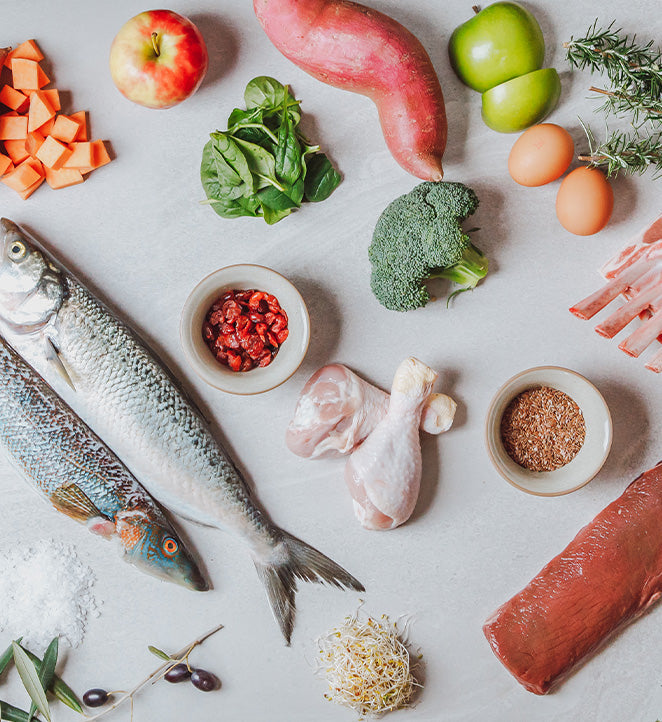 Rated 4.8 / 5
What our best friends think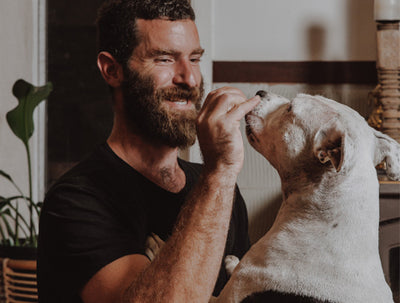 "Have been using Eureka as a treat/topper for 6 months and its literally been life-changing."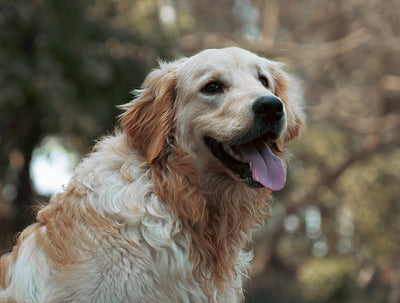 "Much prefer giving my dog wholesome ingredients and treats he'll do tricks for."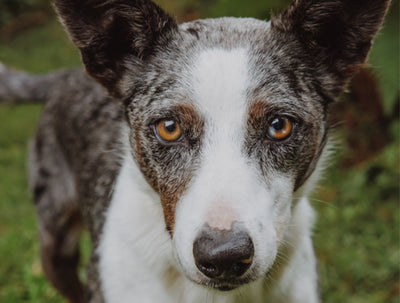 "Customer service is exceptional - so hard to find these days. Thank you Eureka!"
Lana, on behalf of
Pepper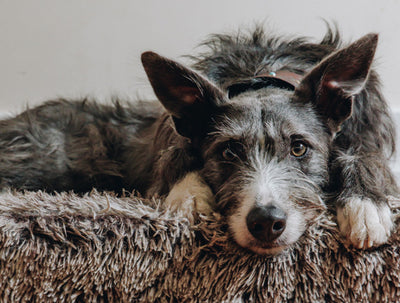 "Been amazed to see the change in her energy levels, coat and vitality. Can't beat Aussie made!"
Lil, on behalf of
Pudding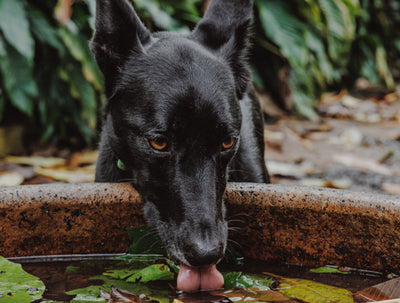 "Cannot believe how much my fussy pup loves Eureka! Quality speaks for itself."
Radha, on behalf of
Penguin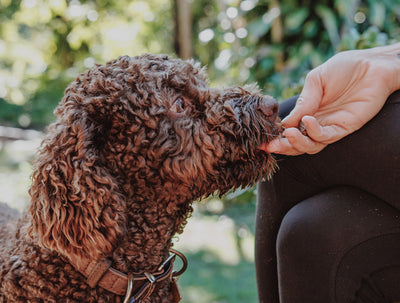 "Was skeptical at first, but the price is absolutely worth it. My dog's never been happier or healthier."
Say

Eureka

in 3 easy steps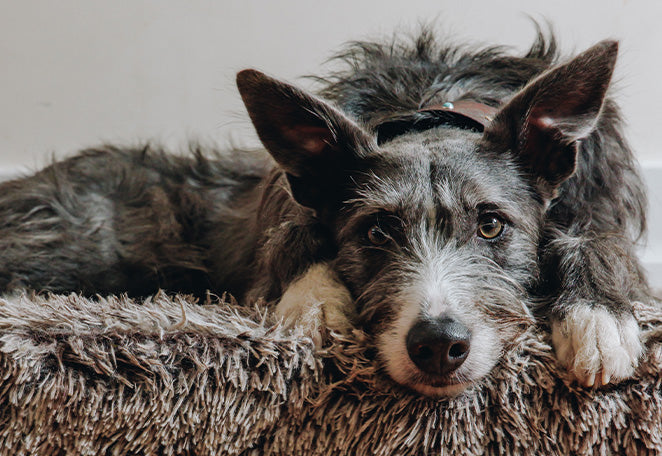 1.
Tell us about your best mate
We'll customise a feeding guide based on their weight, body condition and activity level to specify just the right amount of Eureka to keep them lean and mean.
Quick Calculator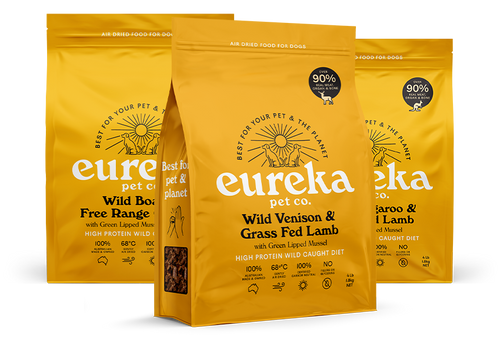 2.
Choose their recipe
(Or let them decide)
Three delicious Australian-made air dried dog food recipes to suit even the fussiest eater.
Discover Our Food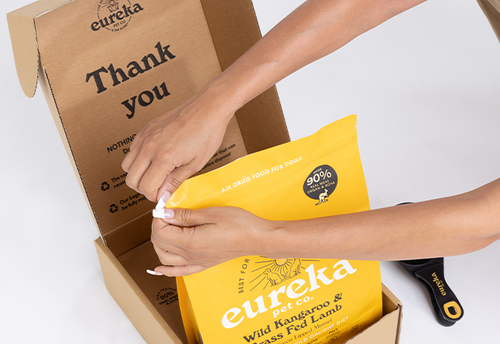 3.
Subscribe + Save
Make life easy with auto-delivery plus 15% off and FREE TREATS FOR LIFE when you subscribe. Pause, change or cancel anytime. Peace of mind with a 100% money back guarantee.
Find Out More
Did you know keeping your dog lean can extend their life by up to 2 years?
Over 40% of dogs in Australia are overweight or obese! We're on a mission to take the guesswork out of calculating feeding amounts so your best mate can live as long as possible. Our quick calculator uses their specific information to help you understand just how much Eureka they need each day to thrive.
Quick Calculator
*Note. Average lightly cooked/raw dog food brands are estimated to have a carbon footprint of 0.006kgCO2E per calorie, while Eureka's is 0.0008kgCO2E per calorie (per Eureka LCA 2022). Due to the limited availability of peer-reviewed research on carbon attribution to Australian-made pet foods, Eureka is continuing to conduct research in this space to continue to improve our approach and minimise our environmental impact.